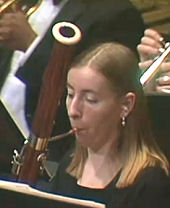 Rosalind has operated a private teaching studio since 2004 and is currently accepting students of all ages and experience levels in the Asheville, NC area.
If you have questions like:  "What do I do with all of these thumb keys!?" "How do I produce a good sound?" Perhaps private instruction is for you!
Lessons focus on building solid groundwork for enjoyable music-making by developing tone production techniques, breath control & air support, articulation, and embouchure. Musical expression, physical technique, music theory, and ergonomic bassoon playing, are also primary focuses.  To achieve all of these wonderful details, students will learn exercises, etudes, scales, solo and ensemble repertoire, and be encouraged to develop their overall musicianship and performance skill.
Bassoon reed adjustment and making is taught as a part of lessons or in separate seminars.
Lessons help students gain confidence in playing, develop good personal practice techniques, form personal goals, and encourage students to seek out performance experiences.
Please contact Rosalind with questions regarding lesson schedules, fees, and what to expect from private instruction.